7 Ways to Eat More Vegetable Foods for Good Health
7. Eat Edamame
Get edamame—green soybeans—into your diet. They have satisfying protein and fiber. Try adding them to salads, stir-fries or soups.
Provencal-Style Edamame Saute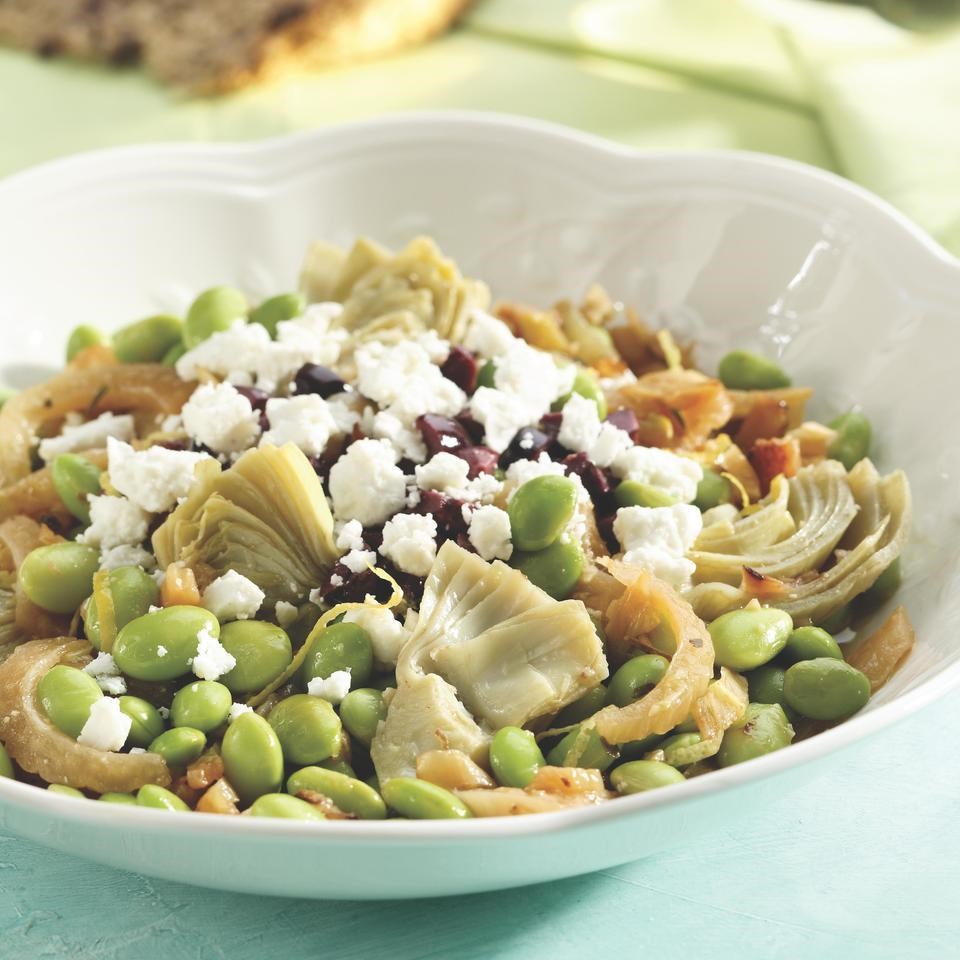 Provence, in southeast France, has earned the culinary trademark "à la Provençal" for dishes prepared with plenty of garlic, olive oil and olives. Here we combine fennel, artichoke hearts, edamame, feta and olives in this quick and hearty one-skillet supper.
Ingredients
2 tablespoons extra-virgin olive oil
1 large bulb fennel, trimmed, cored and thinly sliced
2 tablespoons minced garlic
½ teaspoon herbes de Provence
¾ cup dry white wine
1 10-ounce package frozen shelled edamame (about 2 cups), thawed
1 9-ounce package frozen artichoke hearts, thawed
¼ cup vegetable broth, or reduced-sodium chicken broth
1 teaspoon freshly grated lemon zest
¼ cup lemon juice
½ teaspoon salt
½ cup crumbled feta cheese
2 tablespoons chopped cured olives
Preparation
Heat oil in a large skillet over medium heat. Add fennel and cook, stirring, until starting to soften and brown, 3 to 5 minutes. Add garlic and herbes de Provence; cook, stirring, until fragrant, about 30 seconds. Add wine; increase heat to high and bring to a boil. Boil until the wine is almost evaporated, about 3 minutes. Stir in edamame, artichoke hearts and broth; cover and cook, stirring occasionally, until hot, about 5 minutes. Remove from the heat; stir in lemon zest, lemon juice and salt. Serve sprinkled with feta and olives.