7 Ways to Eat More Vegetable Foods for Good Health
3. Use Lettuce Leaves As Bread
The next time you make a sandwich, consider lettuce leaves as a virtually calorie-free alternative to a bread slice or wrap. Just about any filling works beautifully. Try tuna or chicken salad, a stir-fry or even a burger.
Five-Spice Turkey & Lettuce Wraps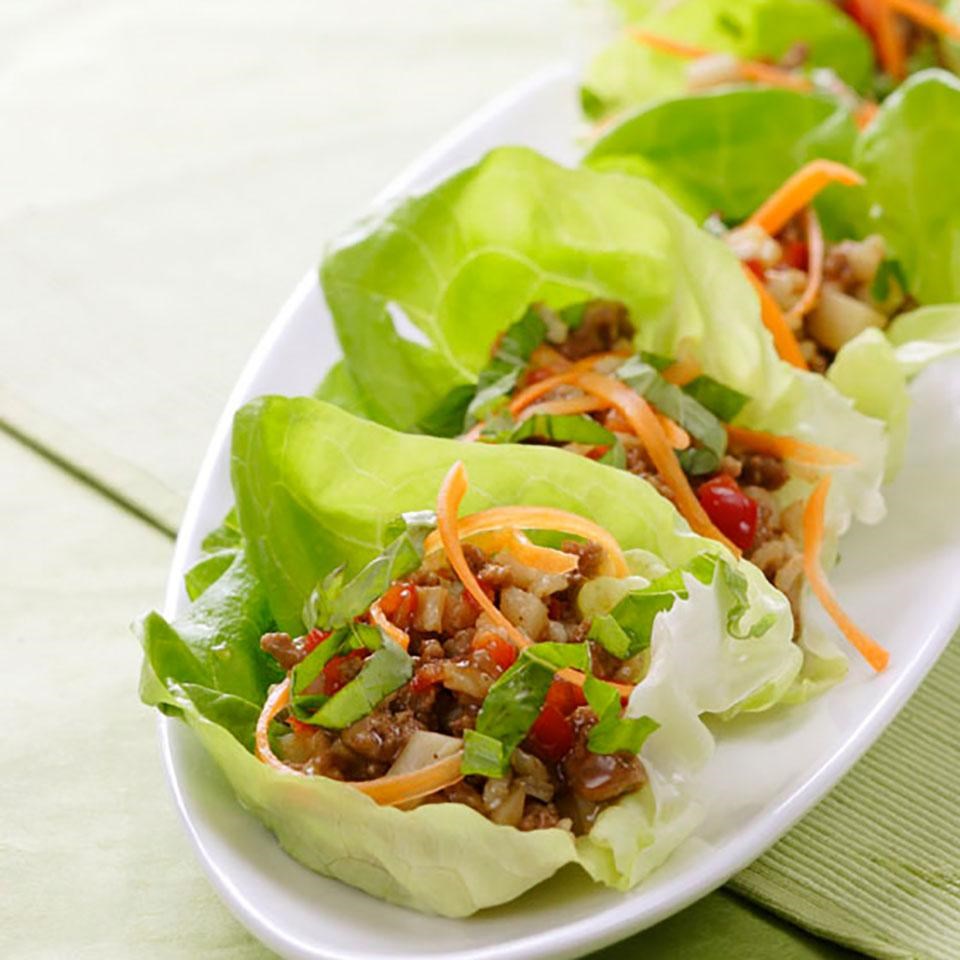 Based on a popular Chinese dish, these fun wraps also make appealing appetizers for entertaining. Make it a meal: Serve with chile-garlic sauce and rice vinegar for extra zip; toss diced mango and strawberries with lime juice for a quick dessert.
½ cup water
½ cup instant brown rice
2 teaspoons sesame oil
1 pound 93%-lean ground turkey
1 tablespoon minced fresh ginger
1 large red bell pepper, finely diced
1 8-ounce can water chestnuts, rinsed and chopped
½ cup reduced-sodium chicken broth
2 tablespoons hoisin sauce, (see Note)
1 teaspoon five-spice powder, (see Note)
½ teaspoon salt
½ cup chopped fresh herbs, such as cilantro, basil, mint and/or chives
1 large carrot, shredded
Preparation
Bring water to a boil in a small saucepan. Add rice; reduce heat to low, cover and cook for 5 minutes. Remove from the heat.
Meanwhile, heat oil in a large nonstick pan over medium-high heat. Add turkey and ginger; cook, crumbling with a wooden spoon, until the turkey is cooked through, about 6 minutes. Stir in the cooked rice, bell pepper, water chestnuts, broth, hoisin sauce, five-spice powder and salt; cook until heated through, about 1 minute.
To serve, divide lettuce leaves among plates, spoon some of the turkey mixture into each leaf, top with herbs and carrot and roll into wraps.
Make Ahead Tip: Prepare the filling (through Step 2), cover and refrigerate for up to 1 day. Serve cold or reheat in the microwave.
Tips: Hoisin sauce is a spicy, sweet sauce made from soybeans, chiles, garlic and spices. It will keep in the refrigerator for at least a year.