31 Healthy Breakfast Foods That Will Promote Weight Loss All Month Long
Ricotta Swirl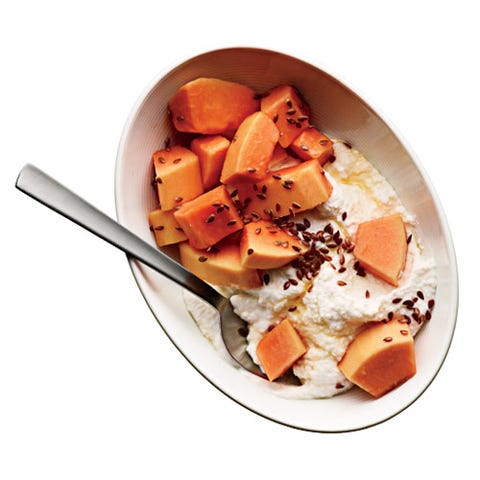 1 cup part-skim ricotta cheese
1 tsp honey
1/2 cup chopped papaya
1/2 tsp flaxseeds
Stir ricotta with honey, then top with papaya and flaxseeds.
Total: 400 calories
With 29 grams of protein, this bowl will keep your stomach from rumbling all morning.
Greens, Eggs, and Ham Quesadillas
2 La Tortilla Factory Smart & Delicious Soft Wrap Minis White Whole Wheat wraps
2 large egg whites, scrambled and cooked
1/4 cup arugula
3 oz lean deli ham
2 Tbsp crumbled feta
3/4 cup blueberries
Top each wrap with half the eggs, arugula, ham, and feta. Fold in half, and warm in a skillet. Serve with blueberries.
Total: 337 calories
Blueberries are packed with antioxidants that have been proven to protect against obesity in mice—likely a good sign for humans and a good addition to healthy meals.