31 Healthy Breakfast Foods That Will Promote Weight Loss All Month Long
Savory English Muffin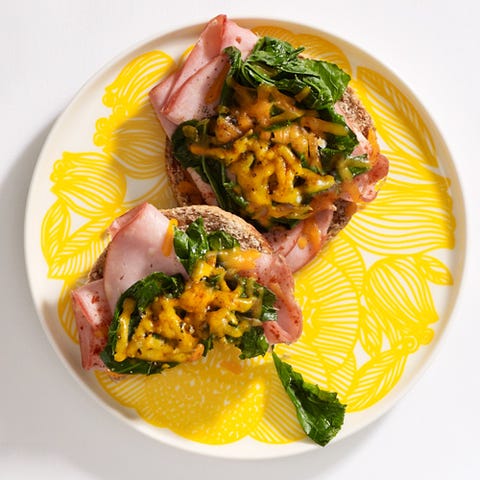 3 oz Applegate Naturals Black Forest ham
1/2 cup raw kale, leaves torn, stems removed
2 Tbsp shredded low-fat cheddar cheese
1 whole-wheat English muffin
1 tsp olive oil
Layer ham, kale, and cheese on muffin halves. Drizzle with olive oil, and sprinkle chili powder, sea salt, and black pepper to taste. Toast muffin halves side by side in a 375°F oven for 10 minutes, or until cheese melts.
Total: 310 calories
Olive oil is packed with antioxidants and healthy fats, so this drizzle is the easiest weight loss hack you can add to your morning.
Home Fries with Sausage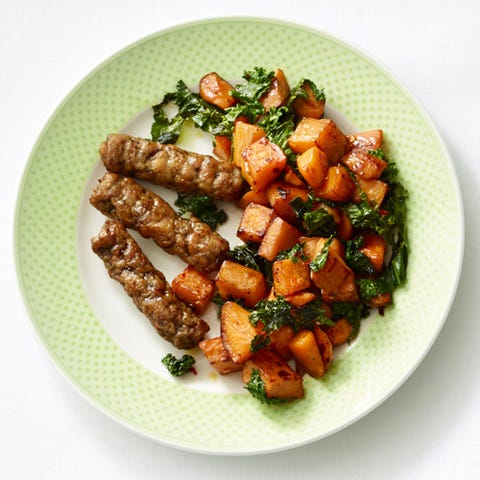 3 links Applegate Naturals chicken and sage breakfast sausage
1 cooked sweet potato, cubed
1 1/2 cup chopped kale
2 tsp olive oil
1/4 tsp crushed red pepper flakes
Heat chicken sausage. In a pan, sauté sweet potato and kale in olive oil until soft, sprinkling in red pepper flakes.
Total: 310 calories
Studies have shown that people who eat hot red pepper consume fewer calories throughout the day—definitely a good way to kick off your morning.