9 High-Protein Vegetables That Will Fill You Up Fast
Popeye is notorious for showing off his massive biceps. His secret? Spinach. But that isn't your only ticket to the gun show.
According to Rosanne Rust, R.DN., many vegetables provide you with two grams of protein per cup raw, or per half cup cooked. (So anything with two or more grams per serving can be considered a high-protein vegetable.)
It sounds underwhelming when you compare it to, say, the 31 grams of protein in a chicken breast. But the smaller amounts of protein in veggies can significantly contribute to your recommended daily intake if you aim for the recommended five to 10 servings a day.
However, there is a catch. "Plant proteins are 'incomplete' proteins, meaning they aren't made up of all the essential amino acids," Rust says. She says it's important to make sure to "eat the rainbow" of veggies and grains to ensure you're getting a variety of amino acids. (Translation: Don't just eat tons of broccoli and call it a day.)
On your next grocery run, scan the produce aisle for these lean, green muscle machines.
Spinach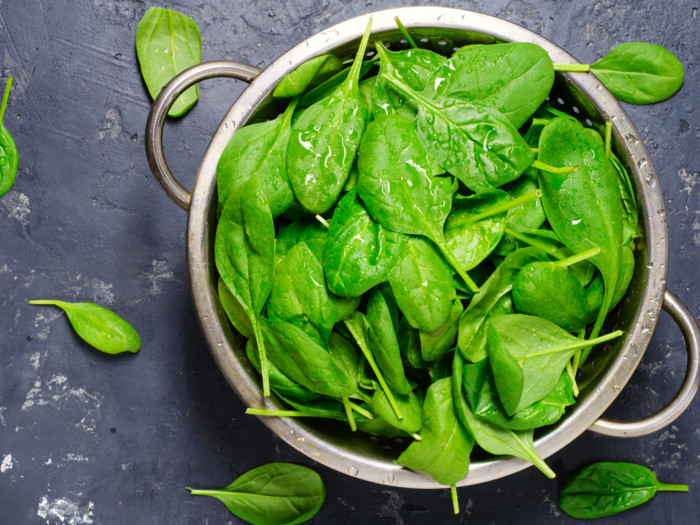 Loaded with vitamin C, folic acid, and other B vitamins, spinach provides a substantial amount of protein when cooked, says Rust. Try her yummy recipe of wilted spinach with pine nuts and zesty lemon.
Several components of spinach like potassium, folate, and various antioxidants are known to provide neurological benefits to people who regularly consume it. According to Neurology, folate reduces the occurrence of Alzheimer's disease, so spinach is a very good idea for people who are at high risk of neural or cognitive decline. Potassium is an integral part of brain health as well, and it has been linked to increased blood flow to the brain and heightened cognition, concentration, and neural activity.
Per 1/2-cup serving: 21 calories, 0 g fat (0 g saturated), 3 g carbs, 0 g sugar, 63 mg sodium, 2 g fiber, 3 g protein.