31 Healthy Breakfast Foods That Will Promote Weight Loss All Month Long
By now, you probably have that one healthy breakfast staple that gets you through the day—but who says you have to settle for the same bowl of oatmeal or egg white omelet every morning? Breakfast is the prime time to get your day off to a healthy and delicious start, so let it live up to its full potential! Click through these slides to check out recommendations for healthy breakfast recipes that help you lose weight—you'll be set for the whole month.
Smoked Salmon Toast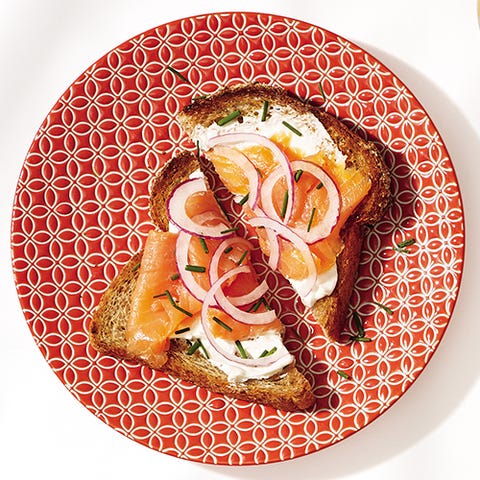 1 slice whole-wheat bread, toasted
1 1/2 Tbsp cream cheese
2 oz smoked salmon
1 thick slice red onion
1 Tbsp chives
Spread cream cheese on toast, and top with salmon, onion, and chives.
Total: 360 calories
Don't let cream cheese's bad rep discourage you. Researchers believe that the calcium found in dairy helps you burn more fat.
Eggs 'n' Greens
1 Tbsp olive oil
1 cup sliced mushrooms
2 cups spinach
1 egg
1 Tbsp Sriracha sauce
Add half the olive oil to a heated skillet, sauté mushrooms and spinach, and remove to a plate. Add remaining olive oil to the skillet. Crack egg into the pan, and cook sunny-side up. Add egg to vegetables. Drizzle with Sriracha sauce.
Total: 230 calories
You already know that spinach is a health food rock star—but it will also help cut cravings all day long.